Register online or at the Shawnee Peak baselodge 8:30am-10:30am. Race at 11:00am - Awards at 2:30pm.
$10 registration supports Russ Haggett Scholarship. T-shirts for the first 75 registrants!
Online registration is now closed. Please register at Shawnnee Peak base lodge 8:30-10:30am.
Russ Haggett Memorial Race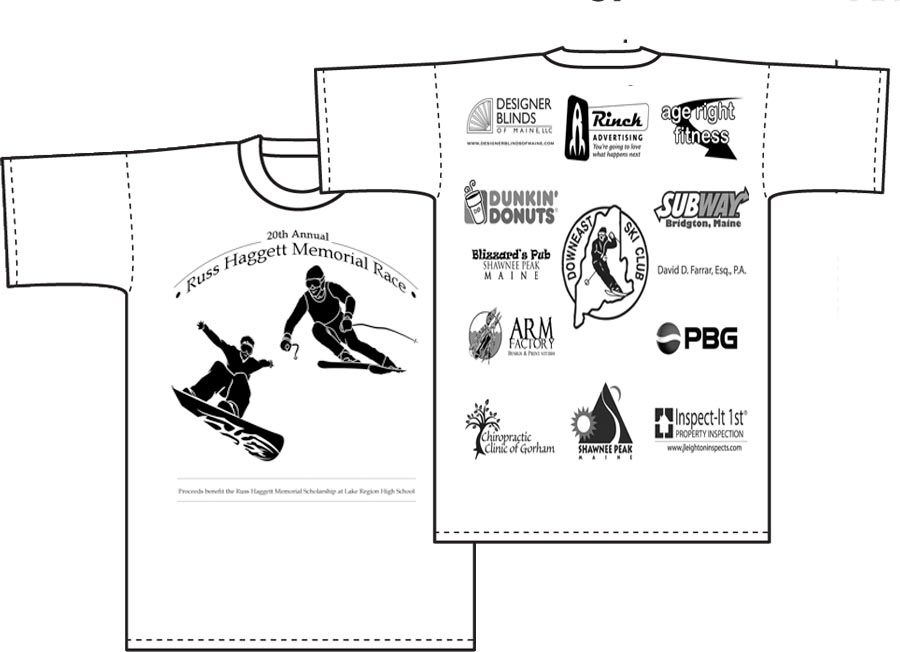 Thank you to our 2013 race sponsors and door prize donors: Bridgton Dunkin Donuts, Bridgton Subway, Blizzard's Pub, Pepsi Bottling, Shawnee Peak, Inspect It First, Designer Blinds of Maine, Age Right Fitness, David D Farrar Esq PA, Chiropractic Clinic of Gorham, Arm Factory screen printing & graphics, and Rinck advertising.
The Russ Haggett Memorial Race is usually held the third Sunday in February and is sponsored by Down East Ski Club and Shawnee Peak. All net term proceeds go to Russ Haggett Memorial Scholarship for two Lake Region High School Seniors. The 2013 Scholarship race will be held March 10th
Russ Haggett, a 2003 inductee to the Ski Maine Hall of Fame, was Pleasant Mountain's (currently known as Shawnee Peak) most prolific general manager throughout the 40s, 50s, 60s and 70s. His dedication to the mountain and its skiers is legendary. Haggett's vision and ambition made Pleasant Mountain into a true winter destination, thus improving the Lakes Region winter economy forever. The Russ Haggett Memorial Race is a family-fun race, for Skiers and Snowboarders of all ages and ability, and a great opportunity for beginners to expereince downhill ski racing.
His commitment to the children of Bridgton is evident in the scores of families that grew up skiing at Pleasant Mountain and now teach their own children to ski at Shawnee Peak. This dedication to affordable skiing for all was summed up at the 2003 Induction Ceremony for the Ski Maine Hall of Fame.
"Russ Haggett is honored for introducing the joy of skiing to many Mainers," said Dave Irons, Maine Ski Hall of Fame chairman at the induction ceremony. "Russ made sure that kids in Bridgton that couldn't afford to ski, got to ski."
Race begins at 11am. Door prizes and awards will be handed out at 2:30pm.
For more information call Shawnee Peak at 207-647-8444
or Gail Platts, Down East Ski Club Race Coordinator, at 207-776-1024.
Downeast Ski Club
P.O. Box 1131 Portland, ME 04104
E-Mail Info@DowneastSkiClub.com
Scholarship Committee:
Asher Platts, Nathaniel Butler, Michelle Christakis, Tom Bennett, Gail Plats